Supercell will be reworking the Trophy Road in Clash Royale to add Level Gates, Trophy Floors, and a new way to get Champions.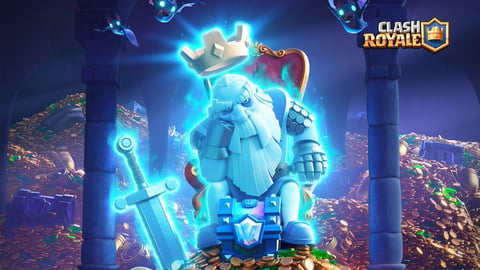 With the new competitive ranked mode - Path of Legends - in Clash Royale, the Trophy Road will be getting a significant rework to better accommodate its arrival. This comes after the latest game update on October 26.
In this rework, the Trophy Road will now stop at 7,500 Trophies (Arena 20) and will not be reset at the start of a new season anymore. These changes will allow you to earn Trophies, visit new Arenas, and collect one-time rewards on your journey through the Trophy Road. You will not gain or lose any more Trophies after you reach the end of the Trophy Road, but you will still be able to play in it to get Chests and Victory Gold.
Besides this, additional features such as Level Gates, Trophy Floors, and a new way to obtain Champions on the Trophy Road will be introduced.
Trophy Road Rework Adds Level Gates And Trophy Floors
The Arenas on Trophy Road will now have Level Gates. You will need to gain enough experience and a certain amount of King Levels to access them.
Trophy Floors will be added to all Arenas. They are the opposite of Level Gates. This means that once you've reached a new Arena, you will not be able to return to the previous one.
Champions Will Be Available On Trophy Road After Rework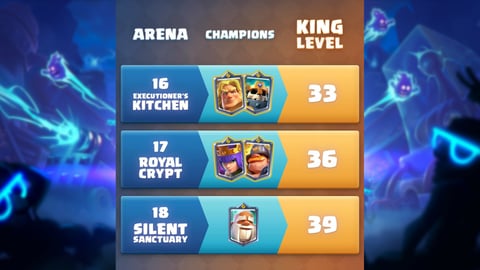 Previously in Clash Royale, you could only unlock Champions by reaching max Level 14. The new Trophy Road rework will now make Champions available to unlock for all players on the Trophy Road starting at 5,500 Trophies. After the recent King Levels rework, this means that you will need to be King Level 33 and reach Arena 16.
Here are the Champions and the Arenas you can expect to see them in on the Trophy Road after the rework:
Arena 16 (Executioner's Kitchen): Golden Knight and Skeleton King
Arena 17 (Royal Crypt): Archer Queen and Mighty Miner
Arena 18 (Silent Sanctuary): Monk
Stay up to date with the latest Clash Royale news and guides: